These (Chippewa) Boots Are Made for Walking…Hiking…Working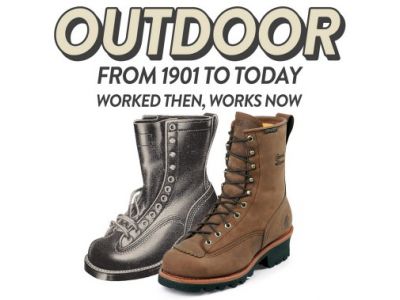 At Corey's Bootery, we carry Chippewa Boots because they are rich in heritage and "built with the guts and determination of the loggers and engineers who paved the way, built the roads, and constructed the buildings that have made this country what it is today." Their slogan, "The Best. By Far," isn't just a saying. It's a truth.
We know boots, and that's why we know to provide Chippewa. The offered Goodyear welt construction provides added support and durability to the boot. Plus, they are completely repairable, making them well worth the investment. Many other brands may offer similar boots at a lower cost, but they will lack the comfort and resilience that Chippewa boots provide.
Most of Chippewa's boots are American-made with premium raw materials while others are made in China. Both are top-notch, manufactured with the highest quality materials. Chippewa offers many styles including options for waterproof, steel toe, composite toe, insulation, and height. No matter the task at hand, Chippewa has a boot to match.
We know that a steel toe that rubs, pinches, or crams your toes during a long day is far less than ideal, another reason we choose to carry Chippewa. They offer wide widths in almost every style they manufacture, whereas many other companies' boots are narrow and do not accommodate for a wider foot. And when you come in, we will ensure that you get the best possible fit.
Finally, if you wear boots all day, you know that a waterproof boot that still allows air flow is essential. And if you didn't know, you'll understand when we tell you that the average foot sweats a cup a day. The typical Chippewa boot's Thinsulate Lining and Chippatex Waterproofing will do the trick.
If you're still unsure or have more questions, we'd love to chat with you about this brand that we love and support! Feel free to stop by any time, or give us a call. We're happy to order you any style of Chippewa Boot, even if it's not currently on our site or in the store, at no additional charge.