Flip Out Your Flip-Flops and Foot Pain for Vionic Sandals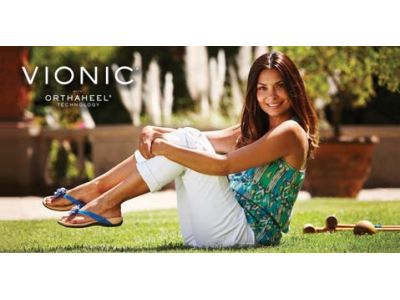 Though it might have just snowed a couple days ago (ouch!), spring and warmer weather is promised to be just around the corner. And synonymous with warm weather are flip-flops. But while they may be trendy and easy on the wallet, they aren't doing your body any favors.
With literally no support for your arches and very little cushioning for your heel, you're better off going barefoot—if it weren't for the potential of walking on glass or developing plantar warts.
Bones Fractures
Overuse of unsupportive flip flops can, surprisingly enough, lead to fractures in the bones of your feet because of the continuous trauma on the foot from lack of shock absorption.
Plantar Fascitis & Over-Pronation
When you walk without arch support, you are changing the entire way that you are standing and walking, as your whole leg structure folds in causing pain in the foot, heel, shin, knee, and back. Your foot can over-pronate, causing the bottom of your foot to flatten out, and you can create inflammation to the plantar fascia (arch) called plantar fasciitis, a condition that causes pain. You may feel a burning or stabbing sensation on your heel when walking. According to ZocDoc, Inc., an estimated 200,000 foot injuries in the United Kingdom alone were treated as a result of flip flop use.
Vionic's Orthaheel Technology
Orthaheel Technology was developed by Andrew Weil, MD, a world-renowned integrative medicine expert, to offer shoes with support for proper alignment. Vionic's footwear has been recognized by the American Podiatric Medical Association with a Seal of Acceptance for footwear that promotes good foot health. Vionic offers a variety of styles of sandals (including the flip-flop look!) for both men and women with a firm and flexible midsole, innovative biomechanical footbed for support, and deep heel cup for stability.
Vionic at Corey's Bootery
If you haven't already guessed, we carry Vionic's line of sandals. They are waterproof and range in price from $60 - $125 depending on the style. It is our mission to improve your life through proper footwear. We can provide information and advice on which type of sandal, or any shoe, may be best for your individual needs. Our staff is made up of certified pedorthists who continually pursue further education and knowledge in footcare. If you would like to see if we have a specific style in stock, feel free to give us a quick call—or stop in and try it for yourself!