The Advantages of Taps and Rubber Soles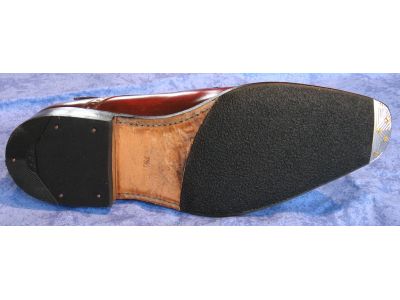 After buying a nice, expensive pair of shoes, one of the first questions many people ask is, "How can I protect these and keep them in great condition?" While there are a lot of options out there, from leather conditioner and shoe wax to shoe trees and canvas bags, one of the easiest ways to guard your shoes against everyday wear and tear is with rubber soles and shoe taps. Affixed to the heel and sole of your shoes, these simple items will minimize the damage caused by walking, especially if your shoes have leather soles. In this post, we're going to take a look at a few of the advantages of using shoe tips, taps and rubber soles.
A longer lifespan
Rubber soles and taps reduce the wear that your shoe experiences during your daily walks. By acting as a barrier between your shoe's soles and the ground, they keep your actual soles in top condition.
Better defense against the elements
Especially here in Michigan, protecting your shoes from the elements is critical. Salt, snow, ice and water can all reduce a sole to a shriveled mess in no time. Rubber soles can help to keep your shoes' soles from coming into contact with these harmful agents.
Better distribute wear and tear
If you have an uneven gait or have noticed an unusual wear pattern on your shoes, shoe taps and tips – either rubber or metal – can help to redistribute the wear. For example, if you've noticed that you wear the inner heel of your shoes down faster than other areas, a tap placed in that spot can evenly redirect the damage elsewhere.
At Corey's Bootery, we've been the Kalamazoo shoe shop of choice since 1973. Staffed with experienced, knowledgeable associates and offering a range of shoe sales and repair services, we're well-versed in all of the strategies used to keep shoes in like new condition. If you've recently purchased a prized pair and are looking to keep them looking fresh, contact us today to learn how we can help!