Want the Best in Comfort and Style? Try Custom Shoes from Corey's Bootery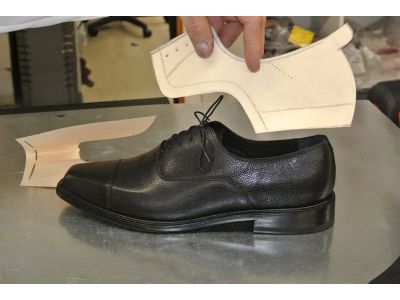 At the end of a long work day, do your feet regularly ache? Do you have trouble finding shoes in just the right size? Are you tired of your shoes falling apart due to your unique gait? Well, you're in luck! Corey's Bootery offers the best custom shoes in Kalamazoo. Not only are custom shoes a stylish addition to your existing wardrobe, they're hand crafted with your feet in mind. As a result, you'll experience a greater level of comfort and your new custom shoes will last longer than off-the-shelf options.
The first step in creating your custom shoes is to sit down with our experts and sketch out a design. Based on your preferences, fashion sense and needs, we'll work with you to determine how to best integrate the features that you need and the style that you desire.
Next, our experts get to work creating a "shoe last." A shoe last is a wooden form around which your new shoes are built. In creating this last, we measure your feet, perform scans and determine the best way to achieve the maximum level of comfort. Once we're sure that we've found the perfect form, we use the last to create a pattern for your custom shoes.
Finally, we pull your shoes' leather uppers over the last. With precision stitching and careful attention to detail, your new shoes are now completed. From the first to the final steps, we've ensured that every stitch, every patch of leather contributes to a unified, comfortable and stylish product.
At Corey's Bootery, we've been the leading provider of orthotics and custom shoes in Kalamazoo since 1973. With a holistic approach and a total understanding of foot health, we employ the most qualified staff in the area and have the capability to address a number of common foot problems. If you've been on the lookout for a reliable, proven shoe repair shop that can assist you with all of your footwear needs, give Corey's Bootery a call today!