Receive Arch Supports Like No Other with Naot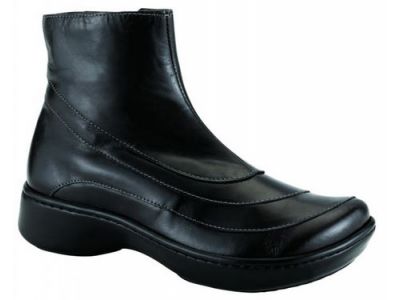 One of our favorite brands at Corey's Bootery that offers our customers some of the best arch supports available is Naot. With the shoes, boots, and sandals offered by Naot, you not only get footwear that feels great, but with the designs and colors of their shoes, you look great too. With the largest selection of Naot in the Kalamazoo area, Corey's Bootery is ready to give to you some of the best arch supports on the market.
Form to your foot
One of the benefits of Naot shoes, boots, and sandals, is that they are made with a cork footbed like Birkenstocks, but they have a softer and more comfortable feel, which gives them no break in period. The support and comfort come from the first time you put a Naot shoe on your feet. If the footbed is uncomfortable for any reason or you need to put in a diabetic friendly orthotic, it can easily be removed and replaced.
A proven brand
When looking for arch supports in footwear, you want ones that have been proven time and time again a superior option, and you'll get that with Naot footwear. As one of the top women's comfort brands for the last several years, Naot consistently helps people get around on their feet with some of the best arch supports around.
Personalize your footwear
When you come to Corey's Bootery, we know you're looking for the most comfortable shoe possible for yourself, and our staff can help you get it. With Naot and some of our other brands, if you like the look or feel of the shoe but they don't quite fit right, we can modify the Naot footbed to better properly support your foot. With a deep heel cup, great arch support, flexibility, durability, and cushioning, there's no better choice than Naot.
With the goal of improving people's lives with proper footwear and orthotics, Corey's Bootery can help you find the comfort and support with footwear you need. As a family business with over 30 years of experience, we'll give you the personal touch in finding your perfect footwear with arch supports.